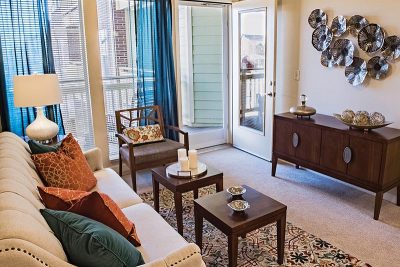 With limited opportunities for trips, vacations or even routine outings in 2020, many of us had to get the most enjoyment possible out of our personal spaces, whether we lived in house, an apartment or a community. At The Avenues Crofton Park, recent inquiries from prospective residents reveal this same desire for more space, and we're happy to say we're ahead of the curve!
Our 55+ community in Broomfield, Colorado was built for older adults who prefer to downsize in moderation, preferring to exchange their four-bedroom home for a spacious, two- or three-bedroom apartment or cottage, rather than a small studio or one-bedroom unit. With this greater space, our residents have more room to host guests, pursue hobbies and store valuable items without the responsibility of home ownership and maintenance.
With one-, two- and three-bedroom layouts, residents can choose apartment floor plans and cottage floor plans to fit their lifestyle needs. Our select floor plans even include a separate dining room or den, perfect for entertaining or creating a unique space for activities or relaxation. Each unit has its own private, covered balcony or patio, and expansive windows for natural lighting.
Many of our residents have also commented on how spacious our apartments and cottages truly are. With open floor plans, walk-in closets and walk-in showers, residents who use wheelchairs, walkers or other assistive devices appreciate not feeling cramped or restricted as they move around their living areas.
For those looking for even more space, as well as a greater sense of privacy, The Avenues Crofton Park offers senior cottages that provide the benefits of independent living without the responsibilities of home ownership. Like our apartments, our cottages come in different layouts, including a two-bedroom, two-bathroom floor plan as well as a three-bedroom, three-bathroom floor plan.
Both feature main-level master suites for easy access and full kitchens with modern appliances and amenities. Spacious walk-in closets, single-car attached garages and other storage areas allow residents to keep what's important to them when making the move to independent living.
While many older adults seek to downsize, minimize or simplify in their retirement years, we know this doesn't excuse a one-size-fits-all approach to senior living. It means that our prospective residents need housing options that are as diverse and unique as they are.
Whether you're looking to downsize to an apartment or a smaller home, we encourage you to begin exploring senior living options in your area to find the one that is right for you. If you're interested in learning more about The Avenues Crofton Park, we would love to have you stop by and visit.
For more information about our community or to schedule a tour, please fill out our online form or contact our experienced leasing experts at 720-799-0915.