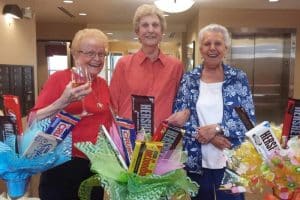 At the Avenues Crofton Park Apartments, we make sure we take good care of your well-being. We do everything within reach to provide you with a living facility that has all you need for your mental and physical health.
There are many retirement communities in Broomfield, but here we have a nice activity calendar that guarantees your social life and engagement with others while having fun and being healthy. We design our cultural and social activities and events based on the residents' interests and their needs. Here are 5 activities you can look forward to when living in our community.
Peaceful Art Time
As the name of the activity suggests, this is an art class where participants enjoy a quiet time in our garden or in one of our lounges, depending on the weather. One thing is certain, you will be able to relax and forget any worries as you take part in this activity.
Social Hour
Meet new neighbors, chat with friends, and enjoy the company of those who live around you. Our apartment residents always look forward to this time to gather and converse with friends.
Fitness Fun
Exercise doesn't have to be boring! We make it fun by designing group exercise opportunities to keep your body as fit as your mind. Our community also includes a well-equipped fitness and wellness center that sometimes hosts this activity. Other fitness activities occur outdoors.
Movie Night
When you live in our community, you don't need to go to the cinema to enjoy good movies that suit your taste. You can do it in the comfort of one of our lounges with a large screen and surround sound. Do you want another reason to enjoy movie night? You will watch movies with your friends, and that will make this time even more pleasant.
Heart Walk
At Avenues Crofton Park, your health comes first, so if you don't like to exercise there is another option that should fit most of our residents' taste. The heart walk is a simple group walk where you can enjoy the open air in the company of your friends. While doing a great favor to your heart, this activity is greatly entertaining, and you won't even feel time passing by as you walk.
This is just a handful of the activities we offer our residents. Our goal is to keep residents engaged in our community with a variety of activities to suit everyone's tastes.  We are pleased to assist our residents in living comfortably, without worries, and surrounded by other friendly people. Won't you join us?