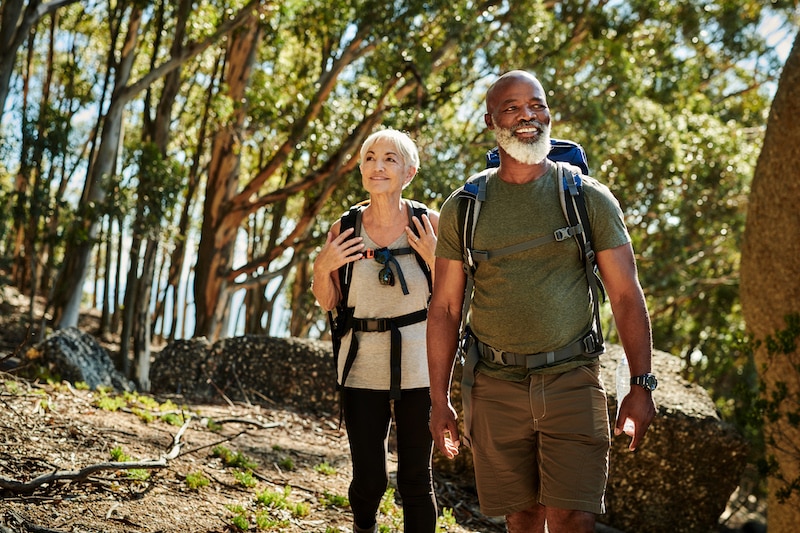 February is American Heart Month to bring awareness to the importance of protecting your cardiovascular fitness. For seniors, heart health is extra important as we are more likely to have complications and health conditions that can erode our quality of life, say experts. While some heart issues are hereditary, the majority of them are a result of lifestyle choices over time. But, it's never too late to improve your heart health, and the team at The Avenues Crofton Park would like to share these five simple things you can start doing today to help you stay young at heart.
1. Get Moving
Any physical activity that quickens your pulse like taking brisk walks, hiking, golfing, riding a bike, and gardening are all great ways to improve your heart health. Residents at The Avenues are next door to several well-groomed walking trails in the Metzger Farm Open Space in Broomfield. Our community is also close to local Broomfield recreation centers with pools and fitness classes, and most offer senior discounts. We also have community bikes residents can check out and resident-tended community gardens.
2. Get More Shut-Eye
Sleep is a highly underrated way to stay young at heart. In fact, experts say you should log between 7 and 9 hours of sleep each night as you age. Improve the quantity and quality of your sleep by turning off electronic personal devices and the television about half an hour before your bedtime. Establishing a relaxing nighttime routine and going to bed and waking up around the same time every day will help you fall asleep faster and stay asleep longer.
3. Stop Stressing
Stress is a sneaky heartbreaker. Taking time for relaxing stress-busting activities is the fountain of youth for your heart. Studies show that simple things like spending time outdoors, reading, practicing gratitude, and socializing are easy yet highly effective ways to counteract stress. We support our residents' heart health with outdoor gathering spaces and a library with comfortable quiet places to read. The Avenues regularly hosts fun activities to bring residents together, like our craft and chat group that provides residents with a creative outlet while having fun with peers.
4. Drink Up
Mild dehydration, something common among older adults, is linked to poor heart health. Get into the habit of sipping from a water bottle throughout the day and look for ways to incorporate more heart-healthy beverages like herbal teas, and sparkling water with lemon into your day to give you a more youthful heart without much effort. The National Council on Aging offers 10 great reasons why water is so important as we age.
5. Know Your Numbers
Get your blood pressure checked regularly, monitor your cholesterol levels, and know what a healthy body mass index (BMI) is for your age, gender and height. Counting your steps, counting calories, and counting your blessings are simple ways to improve your heart health that anyone can start doing right now.
Considering a more carefree retirement lifestyle to focus on your health and happiness? We invite you to stop by The Avenues Crofton Park where the location and amenities offered by our boutique 55+ retirement community will keep you young at heart. Call 720-799-0915 and schedule a tour today.