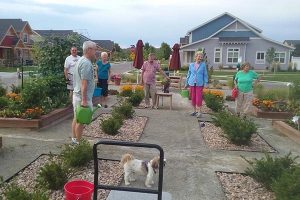 We all know exercise is good for us, but for seniors it's even more important and can impact how well you age. According to the Centers for Disease Control and Prevention, most age-related loss in strength and stamina can be attributed to a decrease in physical activity. So when you do not exercise, you're more susceptible to falls, arthritis and osteoporosis, heart disease, hypertension and a whole slew of other chronic illnesses. Luckily, there are many ways to get active as a senior, especially at The Avenues Crofton Park.
If you haven't been active, start small, engaging in light activity such as walking, swimming or even gardening for 10 to 15 minutes a day before building up to longer sessions. The Avenues has a community garden where residents can enjoy sunshine, nature and the physical benefits of tending to plants. Many residents volunteer to work in the garden, typically in the morning or evening to beat the summer heat. With the Metzger Farm Open Space right next door, residents can easily access walking trails, including a connection to the 12-mile Big Dry Creek Trail. Do you love to swim? Access to the pool at Paul Derda Recreation Center is less than a 5-minute drive away and offers discounted rates for Broomfield residents and seniors. Small amounts of exercise still lead to numerous benefits, so don't be intimated if you can only handle exercise for a few minutes a day — it will get easier!
If you're already somewhat active but want to do more, pick activities you enjoy most as you'll be more likely to do them consistently. Group classes can be a great motivator since your friends are counting on you to show up, and friends help make exercise more enjoyable! The Avenues offers fitness classes every month. Our Tai Chi Fusion class, offered every Thursday at 11 a.m., combines Korean-style tai chi and yoga. Tai chi has been found to improve flexibility and provide overall pain relief. The Avenues also hosts Zumba Gold classes on the second and fourth Wednesdays of the month at 11 a.m. Zumba Gold is specifically designed for seniors and incorporates lower-intensity dance moves that improve balance, flexibility and range of motion. And with a lifestyle coordinator on staff, the Avenues is always planning new activities to help get you moving. As The Avenues is just over an hour away from Estes Park and Rocky Mountain National Park, and less than a half-hour from Boulder, our residents can always head uphill for a hike!
If you're already a fitness nut — they're especially common in Colorado — don't let your age stop you from going hard. Studies have shown high-intensity interval training can improve muscle mass, strength and endurance in individuals of any age. In seniors in particular, HIIT has been shown to reduce signs of aging at a cellular level. The Avenues has an on-site gym where you can work your muscles with HIIT workouts for seniors. Residents can also aim to hike one of Colorado's 53 14ers for an intense but rewarding workout. But don't forget to rest and go easy some days, too. Stretch out in The Avenues' yoga pad area or take a complete rest with a book in one of our many reading areas or with friends at one of our weekly happy hour events. Rest allows your body to adapt to new stresses and heal itself from hard workouts so you can come back stronger than before.
No matter your abilities, there are easy ways to exercise as a senior. Remember to start small, pick activities you enjoy and rest when needed. And don't be afraid to switch up your exercise as life or your interests change. All that matters is that you keep moving!
If you would like to learn more about The Avenues Crofton Park's fitness and social offerings, please give us a call at 720.328.9548.