Residents at The Avenues Crofton Park have access to a robust social calendar, and we're willing to share. RSVP to any of these events to receive a special "complimentary pass."
Tai Chi Fusion with Bud Curry every Thursday in July
11 a.m.
Curry, an instructor with eight years of experience, offers a fun class which combines Korean-style tai chi and yoga. Re-energize and relieve stress with gentle, slow-motion movements that improve balance, posture and strength. No experience is required and all are welcome to participate.
Zumba Gold with Jean Harding
Wednesday, July 12 at 11 a.m.
Wednesday July 26 at 11 a.m.
Certified Zumba Gold instructor Jean Harding will teach you original Zumba movements at a modified intensity. You'll learn choreography, range of motion and balance during this fun class, AND you'll get your heart pumping!
Active Minds presents 'Turbulent Waters: Conflict in the South China Sea'
Friday, July 14 at 2 p.m.
The South China Sea is a mecca for trade and international disputes. Learn more about this important waterway and how it's impacting global politics.
Michael Van Metre presents 'Technology 101: Ordering Meals Online'
Tuesday, July 18 at 3 p.m.
Ordering takeout should be easy, but smartphones and meal ordering apps have made it more challenging, especially if you don't understand the technology. Let tech mogul Michael Van Metre show you how to use DoorDash, Grub Hub, UberEats and more!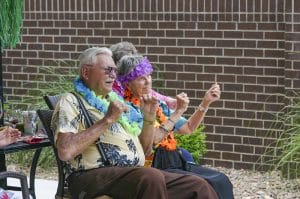 Second Annual Luau Celebration
Thursday, July 20 from 4 to 6 p.m.
Once again, we invite you to join us for a Hawaiian luau. This year's event will feature Polynesian dancers, fire eating, Tahitian drumming and more! Plus, we'll be hosting a costume contest. So come dressed to impress.
Greeting Card Workshop
Monday, July 24 at 1 p.m.
Learn how to create beautiful, heartfelt gifts for your loved ones during this unique event hosted by Barbara Anderson from Stampin' Up!
Vision clinic with A3 vision
Monday, July 24 at 3 p.m.
It's time to get your eyes checked, and we're here to help! Join us for a complimentary vision screening.
Hearing clinic with the Family Hearing Center
Thursday, July 27 from 10 a.m. to 12 p.m.
Chelsea Brude from the Family Hearing Center will be offering 15-minute complimentary hearing evaluations.
Michelle Rahn presents 'Aging with Attitude to Make a Difference'
Monday, July 31 at 3 p.m.
2004 Ms. Senior America Michelle Rahn will teach you how to embrace your age along with you other strengths and abilities.