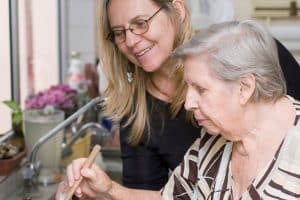 When it comes to senior living, there's a plethora of options. It's the same when it comes to food—what you eat, how you prepare it and where you eat it. Traditional senior living models often included only one option: a large cafeteria-style area where residents would be served their meals. But nowadays, there is a fundamental shift in dining options for seniors.
Large cooking areas for resident use, called country kitchens, let people socialize and cook together, providing flexibility in meal times and food options while still maintaining a community aspect. Country kitchens also make it easier for residents to invite their families into the community for meals; this allows them to truly make the senior living community a home. Additionally, this communal kitchen can be the site of resident activities and cooking demonstrations, furthering the social and community aspect of senior living facilities.
While country kitchens are great for socializing and large gatherings, it's important to give residents their own personal space. Many independent living communities, such as The Avenues Crofton Park, offer larger kitchens in their apartments, giving seniors the choice to prepare their own food and eat in the privacy of their own residence.
Beyond the benefit of personal preference, apartments equipped with kitchens and communities equipped with country kitchens play a crucial role in the senior care model: cost savings. According to A Place for Mom, up to one third of total monthly senior care expenses can go toward food. But when food is prepared and purchased by residents, they not only control what they eat but also how much they spend.
When we designed The Avenues at Crofton Park, we knew we wanted to place residents in charge of their own food budgets—and food preferences. All apartments feature spacious kitchens with microwaves, ovens, dishwashers, sinks and pantries, so residents control their own food needs—and they save on monthly rent. With private patios or balconies and interior dining spaces, residents can easily invite guest to their apartments to enjoy a meal. The common community area also features a country kitchen for guest use or community events. In effect, our residents are enjoying a community place to gather—our demo kitchen area off the lobby—as well as their own apartment kitchens. If you're considering low-maintenance independent living, but have concerns about the cost and availability of options, The Avenues at Crofton Park is here to meet your needs.
For more information about our community or to schedule a tour, please fill out our online form or call 720-799-0915.