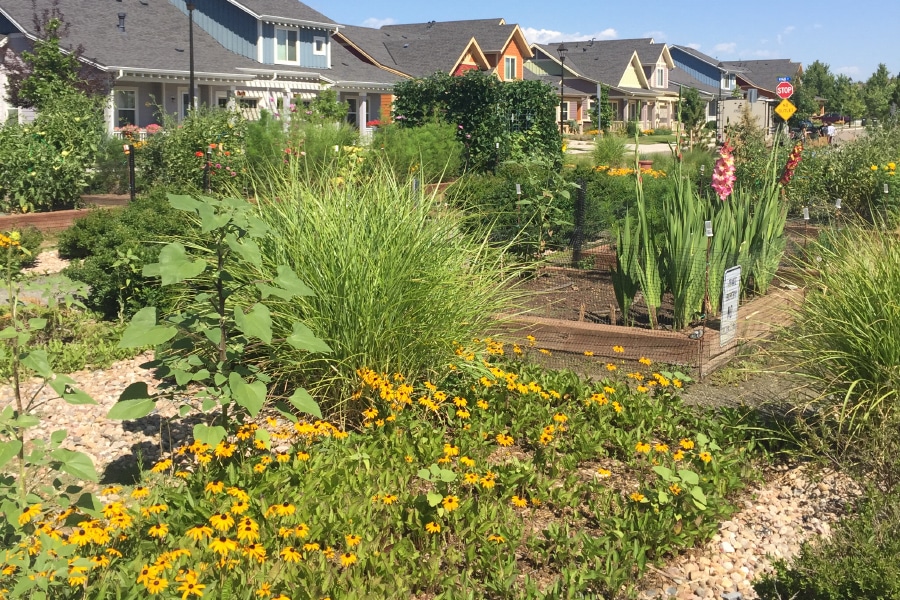 Growing up on a farm in Fort Morgan, Colorado, Paul has always been a gardener. He was also one of 12 children, and his parents had a 480-acre farm where they raised a little bit of everything — green beans, alfalfa, sugar beets, sweet corn and tomatoes.
"My mom had a big garden, and we ate everything we grew. It was a good education to have growing up, and I still carried it over after I left home," said the Avenues resident.
Paul and his wife also planted a garden almost every year they were married and, after moving to The Avenues Crofton Park six years ago, Paul has been able to reconnect with this part of his personal history.
Paul and several fellow residents worked alongside staff to establish the Avenues' community garden with individual plots where residents could cultivate crops. Driven by resident input, a gardening club was formed, and these on-campus vegetable gardens have gone on to produce food for resident consumption and community events.
Gardening has many health benefits for seniors, including reduced loneliness and increased mental clarity. Studies show it can also lower the risk of dementia and help fight stress.
The Avenues' community garden offers residents the chance to engage in social interaction and physical activity, while also providing benefits to the community in the form of delicious veggies and beautiful flowers. In addition to providing nutritious food, working in the community garden provides residents with a venue for aerobic exercise and fitness, as well as sunshine and a daily dose of Vitamin D.
"Today, we have eight plots out there, each eight-foot square, and each person has a plot of their own, or part of one, where they can plant what they want," Paul said. "This year, we've got rhubarb, several tomatoes, and squash, and one or two of the ladies plant flowers."
For his part, Paul enjoys growing all types of vegetables and says his own garden of green beans, carrots, radishes, beets, cucumbers, tomatoes and habanero peppers is coming along nicely this year.
"About four other people besides me are raising crops," Paul said. "When we pick them, we bring them up to the common area and other residents can have anything they want, as long as they share, too."
Paul said staff maintain a room with all their gardening equipment, including seeds, tools, a hose and carts, and residents can get supplies when they want and tend their plot at their own convenience.
"The Avenues provides us with water and fertilizer, and they get the plots ready for us to plant," he said. "[Avenues Lifestyle Team Manager] Thomas [Valencia] takes care of all the purchasing and whatever we want to plant, he goes out and gets it.
Above all, Paul just enjoys the feeling of satisfaction of growing the crops and sharing them with his fellow neighbors.
"I like the work that goes into it," he said. "I do have back problems, but I can still get down on my hands and knees and crawl around in the dirt!"
Call 720-799-0915 today to learn how you can grow older gracefully at The Avenues Crofton Park. We're always looking for more green thumbs to plant seeds and help our senior boutique living community flourish.