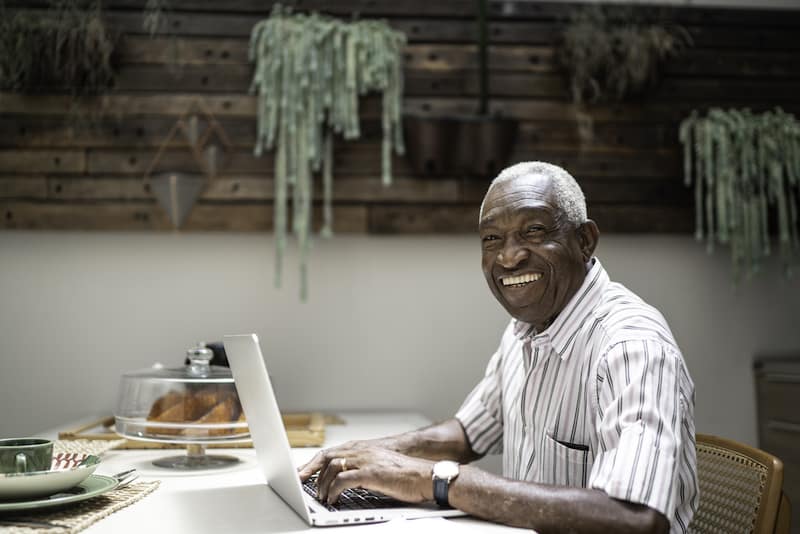 For older adults, a basic knowledge of technology is more essential than ever before — which is why The Avenues Crofton Park's monthly "Tech 101" talks are designed to raise residents' comfort level with modern technology like smartphone apps, online payment platforms and social media.
Classes are led by Michael Van Metre of Real IT & Support, a residential and small business repair company based in Colorado Springs, and address common tech trouble spots, answer resident questions on topics like online safety and digital devices, and sometimes slip in topics purely for fun, like virtual reality.
"Everyone lives online now, so we need to get used to it," Michael said. "Our society is not going to get less techy, and things can change so fast, it's important for seniors and retired people to at least understand the technology, because no matter how much you try to wean yourself away, sometimes your only recourse is to learn how to interact in a technological manner."
"For example," he said, "with medical, financial and government websites — the three agencies retired people tend to deal with the most — many don't have a phone number attached, so the only recourse is chatbots or email solutions, which some seniors aren't as comfortable with."
Tech 101 classes originated four years ago, when The Avenues Crofton Park staff approached Michael to teach a technology basics class for residents. Today, the class format consists of a 15- to 20-minute slideshow on a single topic followed by a Q&A session. The Avenues features Wi-Fi throughout the community, so attendees are encouraged to bring in their devices if they need assistance with something specific. If a resident has additional questions after class, they can schedule a private appointment with Michael.
"For residents, I always tailor the class to what do those people who are coming in want to know, so usually at the end of the class, I ask if there is anything they have seen in the news, or noticed about their computer or phone, or heard their kids or grandkids mention that they're curious about."
One major topic covered is internet safety. While Michael acknowledged that senior social media users can experience health benefits, he also stresses the importance of self-protection. He always concludes his popular "How to Stay Safe Online" class with the four actions that cause 90% of negative consequences online — clicking on an email link, clicking on an ad or pop-up, visiting an untrustworthy website, and ignoring the fine print when installing software.
Aside from online safety, the list of topics covered in Tech 101 is extensive; the most popular class is "What is the Cloud?"
"I've also taught classes on understanding mobile apps, iPhone tips and tricks, using Skype and Facetime, using online platforms for delivery, organizing your photos on a digital platform, syncing your devices, introduction to virtual reality, and Android tips and tricks," he said. "I even did a two-part class at The Avenues on cryptocurrency."