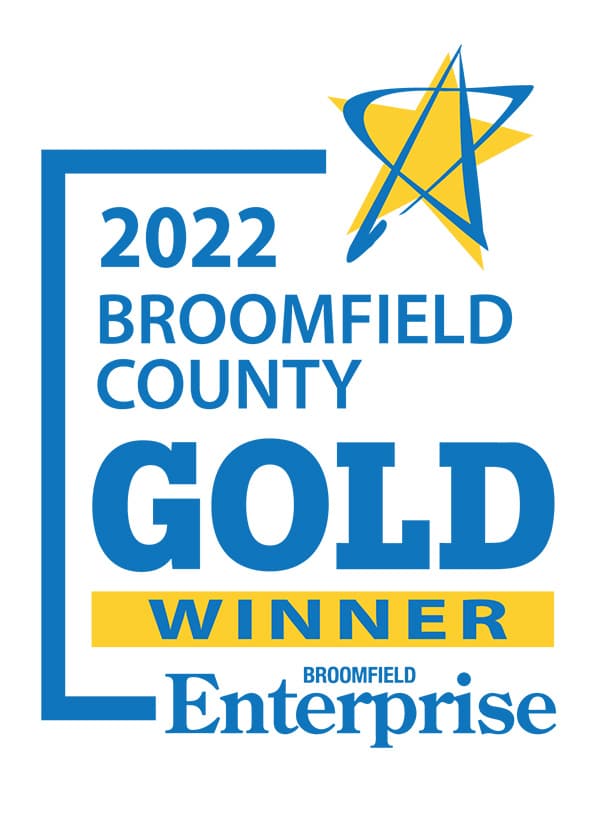 BROOMFIELD – Readers of the Broomfield Enterprise voted The Avenues Crofton Park Apartments the Best Retirement Community in the county this month. The Broomfield Enterprise will publish the results of the popular annual Broomfield County Gold Awards on Oct. 9.
"With all the senior living organizations in the area, we are very humbled by the vote of support from local residents," said Len McBroom, Managing Principal. "Our Senior Boutique Living model was new when we launched it in 2014, and it is rewarding for our team to see that what we offer is resonating with local seniors."
Developed by the Denver-based McBroom Company, The Avenues Crofton Park features a mix of 70 apartment homes and 20 cottages, with 14 different floor plan options for residents, ranging from three-bedroom cottages to two-bedroom and one-bedroom apartments. The community opened in 2014 and features environmentally friendly grounds with easy access to open space, outdoor recreation, shopping services and mass transportation such as the Broomfield Easy Ride Program.
Located at 12431 King Court in Broomfield, The Avenues Crofton Park previously was awarded the best 55+ market rate rental community by the NAHB in 2016. In addition, The Avenues Crofton Park is committed to greater environmental sustainability and holds a National Green Building Standard certification from the National Association of Home Builders.
The Avenues Crofton Park's unique design features private porches for easy access to the outdoors; a large outdoor patio with fire pit, grill and outdoor kitchen; a temperate indoor parking garage with individual storage units; and an adaptable and easily accessible design and structure. Notable amenities include an open demonstration kitchen with state-of-the-art appliances; a catering kitchen for special events; a private dining room; a beauty salon, library and fitness room; a resident coffee bar and beautiful lobby for gathering; a billiard lounge and game room; shared community gardens; a location adjacent to the beautiful 150-acre Metzger Farm, a protected open space with ponds accenting walking trails and bike trails; and close proximity to the 85,000-square-foot Paul Derda Recreation Center.
For more information, call Len McBroom, Managing Principal, at 720-799-0915 or visit www.livetheavenues.com.