Ever since nurse Florence Nightingale suggested hospitals open windows to let fresh air in for the benefit of patient health, there has been a sentiment that fresh air is beneficial to our health. Yet for most of us, living in colder climates means shutting windows and doors throughout the winter to keep heat in and cold out – makes sense. But what we've also kept out is fresh air.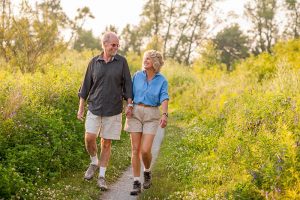 Now that spring has sprung – hopefully that is it for winter! – it's time to get outside and take advantage of local paths, trails or just strolling around the neighborhood to soak in some fresh air and sun.
Luckily, The Avenues Crofton Park is located next to the Metzger Farm Open Space, where residents can enjoy scenic walking paths that traverse a historic homestead and run next to restored 19th century farmhouses. Metzger Farm Open Space also connects to the 12-mile Big Dry Creek trail, which passes through several other local parks and open spaces. And, being located along Colorado's Front Range means easy access to hundreds of local trails and a wide variety of outdoor wonders.
In addition to getting fresh air, AARP writer Sara Altshul reminds us that walking has many positive benefits, including these top five:
High Blood Pressure: Walking can lower blood pressure, cholesterol and risk for coronary artery disease. She suggests 1 to 2 miles a day at a moderate pace.
Arthritis: Walking can help strengthen the muscles that support joints, help shed pounds and reduce joint stiffness. Many studies suggest walking can be as effective as a nonsteroidal anti-inflammatory drug such as ibuprofen for pain relief. Health experts say a leisurely pace can achieve these benefits.
Depression: It's well documented that seniors can suffer from bouts of depression, but walking can help stave off feeling down by producing serotonin, dopamine and other brain chemicals that lift our mood. Experts say a varied stride —a mix of pacing and strolling—can be very effective in achieving these results.
Insomnia: Insomnia is more prominent as we age. Walking, especially in the morning, exposes us to early daylight which inhibits the body's secretion of melatonin, our natural sleep agent. Then, later in the day, these levels bounce back, which helps us sleep at night. Experts say late afternoon walks can also help with sleep as they cool down the body. A 15- to 30-minute walk is suggested in order to gain these benefits.
Type 2 Diabetes: Experts say walking can also provide better blood sugar control, which is especially important as we age and become resistant to insulin. Health experts say just 15-minute walks, especially after meals, are effective in improving blood sugar control and reducing the risk of diabetes.
So, as we shake our winter slumber, walking anywhere from 15 to 45 minutes a day is a great way to get that fresh air Nurse Nightingale advocated for as well as gaining important health benefits. And, a comfortable pair of walking shoes and a couple of layers of clothing is all you need. To boot, you get to take in the spring scenery, share hellos and catch up with neighbors who you might not have seen since winter kicked in.
Our community offers a rich social and wellness calendar that helps residents stay active. To learn more about our health and wellness programming, give us a call or take advantage of one of our "open to the public" events by calling 720-799-0915.