If you thought millennials were the only ones shying away from home ownership, think again. A 2017 study by the Joint Center for Housing Studies at Harvard University reported that adults ages 50 and over accounted for half of the increase in the total number of renters within the past decade — here's why.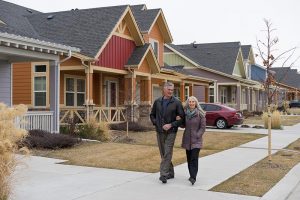 For one, seniors lost confidence in the stability of home ownership following the recession. Additionally, seniors are choosing to rent because home ownership can prove cumbersome for empty nesters who no longer want to deal with routine maintenance and upkeep. Today's seniors are also living longer and healthier lives, and they want those lives to be active and vibrant for as long as possible. Many are aware that their age puts them at an increased risk for social isolation, which has been linked to poorer overall health again and again.
Active baby boomers are driving the recent trend toward "55-plus" or age-restricted rental communities. These 55-plus communities aren't to be confused with independent or assisted living communities as they don't typically include communal dining, housekeeping, medical or personal care services. However, they do include a wealth of amenities designed for convenience and an active lifestyle.
Think fitness centers, trails, gardens and premium locations with plenty of outdoor access. In addition, 55-plus communities place a strong emphasis on socialization, even if they don't offer daily social programming. Sitting areas, including patios, lobbies, shared cooking spaces and event rooms, allow residents to gather outside of their apartments for social activities. Oftentimes, these communities host special events and happy hours to bring residents together as well.
At The Avenues Crofton Park, we offer daily social programming as well as monthly special events. These include lectures on a variety of topics (technology, history, health and the arts, just to name a few) presented by local experts, fitness classes led by area instructors and performances by a variety of entertainers. We host fun activities such as cooking demonstrations, craft fairs, wine workshops and art classes. We also love doing fundraising events for local organizations. For example, we recently held a casino night fundraiser to benefit Brent's Place, the only Children's Hospital Colorado approved Safe-Clean housing facility for immune-compromised patients and their families. The event was a blast, and knowing that proceeds were going toward an important cause made it even more enjoyable.
Without offering all the services that independent living communities do, residents at 55-plus communities enjoy cheaper rents more suitable to income-restricted retirees, and because of the numerous amenities, residents still get to enjoy their golden years in style.
So, yes, more seniors are choosing to rent, but they're choosing to rent a new product. 55-plus communities, a relatively new concept in the world of senior housing, offer older adults freedom, fun and a sense of community without forcing them to think "what's next?" before they decide it's time.