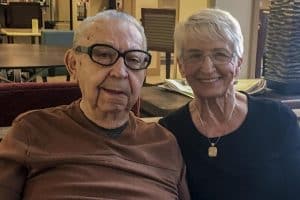 The month of February and the celebration of Valentine's Day gives us an opportunity to reflect on love and the blessings we have in our lives. At The Avenues Crofton Park, you will find no shortage of residents with their own special stories of love and dedication. While many couples at the Avenues have their own unique romance, this Valentine's Day we'd like to introduce you to one of our favorite stories of love: Bill and Maryln Clare, who will celebrate 60 years of marriage this April.
Bill recounts the first time he saw Marylyn walking through the halls of high school in Salida. "I was getting geometry help from my friend Barb, and she walked past me and I said 'I'm gonna marry that girl.'" A year later, they started dating. After dating in high school, their relationship ended when Bill enlisted in the Marines and was sent to serve in the Korean War. As Bill served the country, Marylyn enrolled in beauty school and eventually started her own salon business in Pueblo. While both continued to lead their separate lives, they never forgot about each other.
A random encounter outside a bar in Salida brought them back together in their early 20s. "It was a chance meeting," Marylyn explains. "I had moved back to Salida to take care of my sick mother and we found ourselves outside a bar where he asked me to dinner." After many dates, Bill surprised Marylyn with a diamond engagement ring while she was cutting his mother's hair. As Bill continued to work for Rio Grande Motorway, they started to think about starting a family. "It's funny because the doctor told me I would never get pregnant," Marylyn laughs. "We sure showed him! We had six children in 5 years!" Six children, nine grandchildren and six great-grandchildren later, they are still as in love as ever.
The Clares explained they lived through a lot of trying times, but always instilled values of kindness and compassion in their children. "We drew a lot from our faith and church. We lived through everything that happened in the South with discrimination and civil rights. We always taught our children that everyone was alike and everyone deserved compassion and kindness," Marylyn explained. They even remember what it was like when the first computer hit the market and their priest warned them this new technology would be a "gift and a tragedy." Bill recounts purchasing his first color TV for the family so they could witness a man walk on the moon for the first time. "It was our first glimpse of something else. Something bigger than us."
When asked how they managed to make it through 60 years of marriage, Marylyn explains that Bill's sense of humor has always been a big help. "No matter how mad I got, he always made me laugh and we got through it. He still makes me laugh every day. He always respected and supported me, which wasn't typical in those days. He encouraged me to run my own salon when many men of that time would have preferred I stayed home." Bill says that Marylyn has always been his hero. "She says I am her hero because I was a solider, but really, she's my hero," he says. "The first thing we do every morning is kiss and it's the last thing we do before we go to bed at night."
How did the Clares end up at The Avenues Crofton Park? The Clares explain they wanted to be closer to their family and grandchildren. "It's great to have the community here at The Avenues. We can't say enough good things about Len and the rest of the staff," Marylyn explains. Marylyn relishes the freedom that comes with having her own kitchen and is highly involved in all the social activities at the community. "I love the book club here. It's not like any other one I have participated in. In our club, we each read our own book every month and get together to drink wine and discuss each book without giving away the ending. This month, the book club is heading out to Wildflower Tea Room for our meeting. We also love to attend the community happy hour every Thursday!" Bill enjoys relaxing with Marylyn while watching some of his favorite shows: The Price is Right and Hot Bench.
Happy Valentine's Day, Bill and Marylyn!