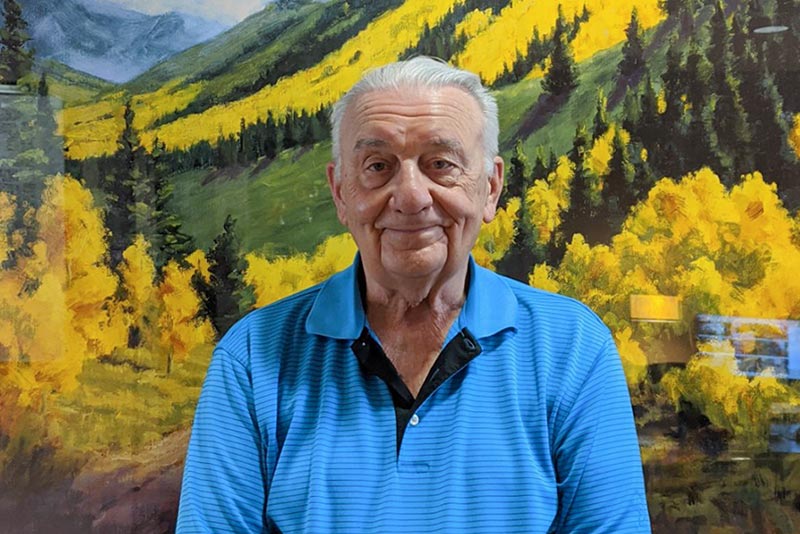 If you're wondering what it would be like to move into a senior living community during the pandemic, Gene, a new resident of The Avenues Crofton Park, would assure you he is very happy with the decision he made.
Gene was previously in independent living at another Colorado senior community; there, all activities were shut down for residents of both independent and assisted living, and residents were required to self-quarantine whenever they left the premises.
"I was really unhappy with that situation," Gene said. "I felt like I needed something that was truly independent living, and The Avenues offered that."
When he was looking for a new place, Gene said he shopped all over, looking at every possibility, from regular apartments to other 55+ communities, to various independent living situations.
"The Avenues seemed to be far and above what any others had to offer," said Gene. "My impression was it was nothing lavish or fancy, but it struck me as being really clean and well taken care of. They're so efficient too."
So far, said Gene, one of The Avenues' greatest perks has been the assortment of socially distanced activities, classes and socializing opportunities on offer.
"I think The Avenues is doing a good job of keeping residents safe from the virus and keeping them engaged at the same time. Right now, I'm going to Monday, Wednesday and Friday exercise classes at the fitness center," Gene said. "They also have this event called Mimosas and Mingling. It's outdoors and they limit it to 40 people, with four per table. You're required to wear a mask and engage in common safety practices, and there's a staff member there with a mask and gloves who is cleaning off all the tables and picking things up."
"With my exercise class, it's limited to 10," Gene added. "When I first went, I introduced myself to the trainer and she made it a point to go around the room and have everyone introduce themselves. I've met a lot of people here."
Gene said he chose to live in one of The Avenues' cottages. "Living in one of the cottages, it's a peaceful and quiet and a friendly atmosphere. Everything I could want is here, but if I feel like going somewhere, I just get in my car and go, and I don't have to go through any common areas if I don't want to. Out of all the places I looked at, this was the only one I felt came close to giving me the independence I wanted."
"The cottages also have a nice little back patio and front porch. I've sat out on my front porch almost every evening as it cools down and read and it's just totally peaceful," added Gene. "It couldn't be nicer."
In addition. the move-in process was seamless, said Gene; The Avenues did offer help to move but he ultimately decided to hire his own team of movers. Gene said he appreciated that before The Avenues turns over an apartment to a new resident, they go through and sanitize the entire space with a hydrostatic cleaner.
Since moving in several months ago, Gene said he has talked with quite a few people considering The Avenues, including one at his previous community, who ended up moving in.
"I could not be happier here," he said. "I have no complaints at all. With little minor maintenance things, they get right on them. And it seems like the staff here all do more than just what's in their job description. Everyone goes out of their way to help you with anything you need. It's just a good, caring group of people."
If you would like to learn more about how The Avenues Crofton Park can make your move-in experience with us easy, seamless and safe, give us a call at 720-799-0915 or schedule your virtual tour.