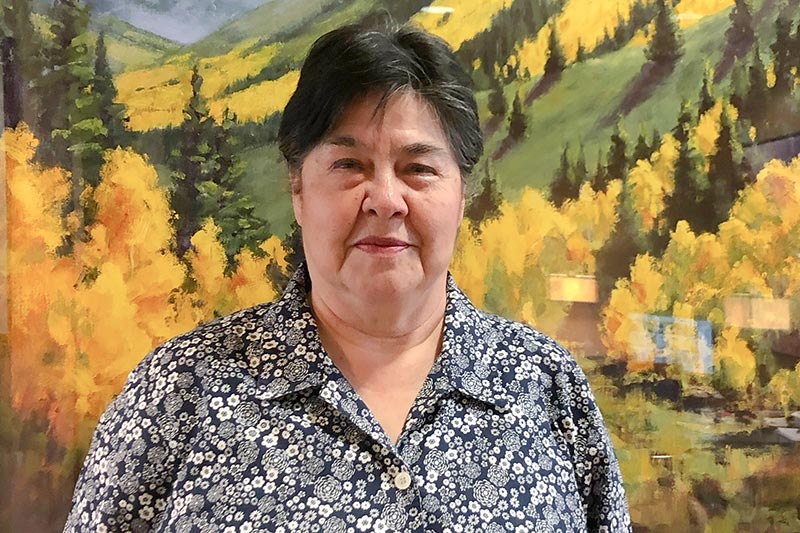 Sylvia, an active resident of The Avenues since moving in this January, said that one of the main reasons she loves this community is how comfortable she feels with both the residents and staff.
"Even though I've only been there seven months, it really feels like I've been there a couple of years," she said. "I like The Avenues because it's a community. There are people who will sit there and talk, and it seems like we have known each other for years. It's like they say, where everybody knows your name. The social gatherings that we have, the dinners, the games, it all really facilitates community. And it's the staff there — Corné, Courtney, Thomas, Justin and others — that really make The Avenues number one."
Sylvia who was a Broomfield resident before moving into The Avenues, said the main reasons she chose The Avenues were safety, size and proximity to her grandchildren, who live in her old house three blocks away. As far as safety goes, Sylvia said she has felt very safe and secure at The Avenues during the pandemic, in large part due to the conscientiousness of the staff. She has also appreciated their efforts to keep residents entertained with things like virtual activities and brain teasers when they had to remain in their rooms more.
"I always felt 100% safe with the staff because they always knew what the governor was saying and the latest updates on the virus," she said. "I know two or three times they had cleaners come in and they sterilized every corner, every hallway. They were always telling us to wear our masks, to social distance. The staff here were on top of it. And they were always checking packages, tracking who was coming in and out. They were better than FBI agents!"
Now, as restrictions ease at senior living communities in Colorado, at least to an extent, Sylvia said she is glad to see in-person activities taking place more and more often. She is also pleased to see the cautionary signs posted all over the community gently reminding people to follow masking and social distancing rules.
Sylvia said her main activity at The Avenues is the fitness classes, which have recently ramped up frequency but with smaller classes to facilitate social distancing. She is especially that the dinners and mimosa parties and movie nights are again becoming more frequent, so she and her fellow residents will have more chances to socialize and see their neighbors.
"It's just nice to know that when I walk in the doors at The Avenues someone is going to say hi to me, someone is going to ask me how my day is or what I've been up to," Sylvia said. "When I lived at home alone, I'd always be coming home to an empty house. Here, we're encouraged to socialize and build relationships. I always say that if you're bored and lonely here it's your fault because there are so many nice, friendly people here and so much to do."