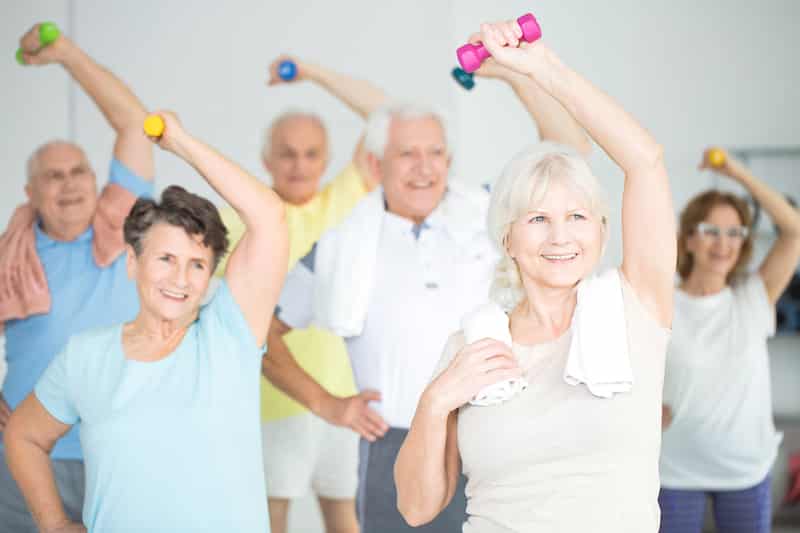 As wildfires and heatwaves blister the West, active seniors like our residents may need to alter their exercise routines, especially when it's too hot (or smoky) to walk, work in the garden, or play a round of golf. Heightened air temperature and humidity increases core temperature, and older adults' bodies are naturally less efficient at regulating heat. Plus, seniors don't produce as much sweat and can easily become dehydrated, making them vulnerable to heatstroke and heat exhaustion.
But seniors don't have to sideline all their summer workouts, provided they take extra hot weather precautions. Here are some helpful tips to beat the heat and get your daily steps in this season.
Start small
Even if you're not a fitness aficionado, remember that light exercise has numerous benefits. Start with low-impact, non-strenuous activities like walking, swimming or gardening for 10 to 15 minutes a day before building up to longer sessions. Be sure to pick an activity you enjoy as you'll be more likely to stick with it, but also know your limits so that you don't end up pushing yourself too hard, too fast.
Hydrate
Drink plenty of cool water and avoid caffeine and alcohol. Carry a reusable water bottle so you can refill it throughout the day. Consult your doctor if you are on a limited fluid diet or taking medication that limits fluid. Ask how much water you should drink during extreme heat conditions.
Sun safety
Before starting an exercise program, it's important to know what to do to prevent heat-related illness. Some basic sun safety for seniors: wear an SPF of at least 15 and apply sunscreen 20 minutes prior to going outside, stay hydrated by drinking water throughout the day, protect your skin from UV rays with hats, sunglasses and long sleeves, and seek shade during the sun's peak hours from 10 a.m. to 4 p.m.
Stay active indoors
At The Avenues, we've made getting your fitness fix easy. Our campus features an on-site, air-conditioned gym with exercise equipment designed specifically for older adults, and our Lifestyle Activities Manager plans events to help residents stay active. Group fitness classes are held multiple times a week and we are conveniently located near the Paul Derda Recreation Center, which offers gym and indoor pool access at a discounted rate for local seniors.
No matter your age and no matter the weather, seniors can maintain their fitness and have fun this summer if they start out small, pre-hydrate, protect themselves from the heat, and rest when needed.
The Avenues Crofton Park is a 55+ senior living community conveniently located in Broomfield, Colorado. Call 720-799-0915 to learn more about our spacious and modern residences, all-inclusive pricing model, and vibrant lifestyle.
Disclaimer: The content in this article is not intended to be a substitute for professional medical advice. Always seek the advice of your physician before beginning any exercise program.