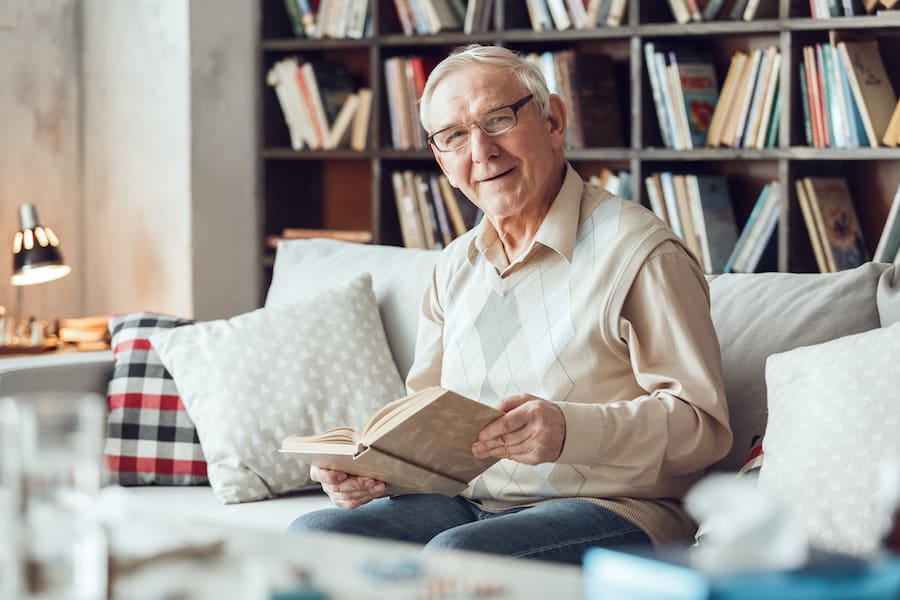 The health benefits of reading for seniors are well documented. Besides entertainment, reading can enhance memory, sharpen decision-making skills and help delay the symptoms of Alzheimer's and dementia. Reading also reduces stress and encourages relaxation, so it's a great bedtime activity for better sleep. To support literary endeavors and encourage reading, The Avenues Crofton Park boasts an onsite library that's managed by residents for residents.
Our Resident Librarian Millie
When Avenues resident Millie first encountered the library, it had a sign saying, "no longer accepting donations." The shelves were overstuffed with old paperbacks and lacked the newest books by the most popular modern authors. Having been an English major in college and a former teacher, Millie loves to read and was immediately inspired to update the library.
She got straight to work and with the help of The Avenues' management team, they sorted all the books and donated those published before 2010.
"We probably donated around a thousand books to small, underserved libraries in the area, Goodwill, and prisons to make room for newer books," Millie says.
The library began accepting donations from residents again to restock the shelves. Millie also went to local library book sales to find novels by the most popular authors like James Patterson and Nora Roberts. The books are organized by the author's last name and a simple honor system is used to check out and return them.
Millie appreciates the support she's received from The Avenues staff to reinvigorate the library and is thankful for resident donations. She is pleased that residents stop in frequently to see what new books are available and that folks are starting to use the space for social gatherings like playing cards, as well as reading.
"We also have a book club that anyone can join. We don't read just one book but get together to discuss the books we have read and make recommendations. You don't even have to read a book to participate," Millie says.
With a regular supply of new books to choose from, abundant indoor and outdoor comfortable seating, and lots of natural light, residents can easily take advantage of the many health benefits of reading in all of The Avenues' community spaces.
Call 720-799-0915 today to see what the next chapter of your retirement holds at The Avenues Crofton Park. We're always looking for more bookworms to be part of our senior boutique living community's story.