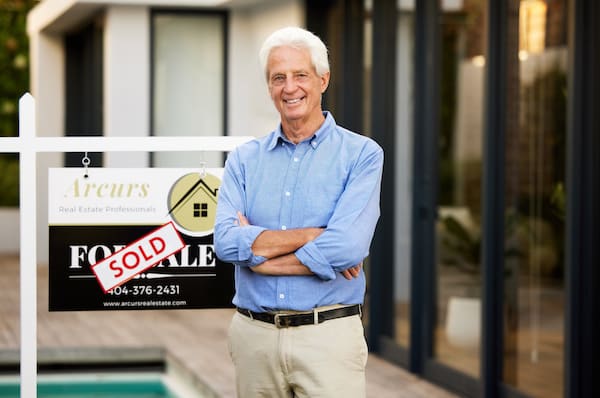 Selling a home is often key to financing the transition to a 55+ senior living community. To get the biggest return on investment, it's essential for longtime homeowners to wow buyers and showcase what's likely their greatest asset in a positive and appealing manner.
Today's red-hot housing market has led many older adults to consider cashing out and trading in homeownership in favor of a maintenance-free lifestyle, like the one we offer at The Avenues Crofton Park. Here are a few tips for senior sellers to help prepare their homes for viewing and a potential quick sale.
Sort and pack:
First, go through every room of your home and remove unneeded items such as old newspapers and magazines, clothes that don't fit, and knickknacks that no longer spark joy. Then sort them into boxes with appropriate labels. Once your belongings are organized and stored, you'll have a better idea of your home's actual condition — and what to do next.
Refresh your interiors:
Identify everything in your home that needs repairs, then start sprucing up: cleaning your carpets and rugs, washing curtains and drapes, scrubbing bathroom and kitchen surfaces, and repainting cabinets, moldings and walls, if needed. Remove personal décor like family photos and mementos so buyers can more easily picture themselves moving into the space.
Assess your exteriors:
First impressions matter! Make your home attractive and inviting to potential buyers. To enhance curb appeal, you can prune your shrubbery, cut your lawn, embellish your front porch with flowers/potted plants, repaint your front door and even add a festive wreath.
Fix the lighting:
Show your home in its best possible light. If you are hosting in-person tours, avoid poor lighting by repairing any burnt-out bulbs and strategically place lamps throughout the house. During showings, keep your windows open — and clean — to let in natural light.
Make showings COVID-safe:
To reduce face-to-face showings during the pandemic, many sellers added virtual tours to their online listings. To keep buyers safe at in-person showings, make sure your home is clean and disinfected. You or your real estate agent can also post signs by the door requesting visitors wear masks or use hand sanitizer before entering.
Hire a specialist:
Senior move managers are available to help older adults and their families navigate every detail of a move—from downsizing to staging a home. The National Association of Senior and Specialty Move Managers is a great resource to find companies that specialize in later life moves. 
Thinking about selling your longtime home? Call The Avenues Crofton Park (720-799-0915) to learn about our unique Bridge-to-Sell program, which offers a flexible reservation option for residents who need additional time to sell their home or downsize their belongings.