Residents at The Avenues Crofton Park have access to a robust social calendar, and we're willing to share. RSVP to lifestyle@livetheavenues.com for any of these events and receive a special "complimentary pass."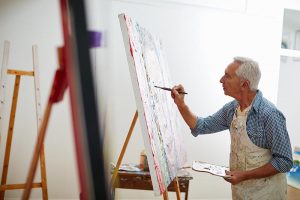 'Activity for Lifelong Health'
Tuesday, Jan. 9 at 3 p.m.
Join Dr. Rachael Van Pelt for her second lecture in her six-part series, "Creating and Living Your Best Third Act." In this lecture, Dr. Van Pelt will discuss the many different types of physical activity needed to maintain strength, fitness, balance, and bone and metabolic health. Dr. Van Pelt is an integrative physiologist who's spent more than 20 years studying healthy aging at the University of Colorado.  Lectures in this series will be held on the second Tuesday of each month at 3 p.m., so be sure to join us again in February!
'The Art of Falconry'
Wednesday, Jan. 10 at 3 p.m.
During this unique program led by Wild Wings Environmental Education, you'll be introduced to the age-old practice of humans and birds of prey working together. The program will explore the history as well as the modern day practices of falconry, and introduce the Colorado birds used in the sport. In addition, you'll have an opportunity to act out the different classes of falconry from the Middle Ages.
Active Minds presents: North Korea
Friday, Jan. 12 at 2 p.m.
This presentation will cover the successes and shortcomings of diplomatic efforts between North Korea, the United States and other countries, as well as North Korea's place in the world relative to global issues such as international trade and human rights.
Paint & Sip with Pinot's Palette
Monday, Jan. 22 from 2 to 5 p.m.
Start out the new year by learning a new skill! You'll have the chance to create a beautiful work of art during this two-hour class with Pinot's Palette, and enjoy wine and charcuterie with new friends. No experience is necessary. The cost to attend is $40 per person and includes a 16-by-20 inch canvas as well as all paint and materials.
Coq au Vin Cooking Class
Monday, Jan. 29 from 3 to 5 p.m.
Let's get cooking! Chef Sean Clark of Clark's Custom Catering will teach you how to prepare coq au vin and will send you home with a sample of the dish as well as a grocery list to recreate the dish on your own. All skill levels are welcome.