Residents at The Avenues Crofton Park have access to a robust social calendar, and we're willing to share. RSVP to any of these events to receive a special "complimentary pass." All events are free and open to the public, but an RSVP is requested at 720-799-0915
Live 2 B Healthy® Fitness Classes
Every Tuesday and Thursday at 11 a.m.
Classes will be led by Live 2 B Healthy, a local organization that seeks to inspire older generations to live longer, healthier lives. Live 2 B Healthy participates in the Silver Sneakers® program, a fitness community that aims to make fitness more fun and accessible to boomers and beyond.
Keep Your Mind Sharp with Brain Fitness Classes
Every Wednesday at 1 p.m.
Brain Fitness classes give seniors the tools to improve concentration and keep the brain sharp. Brain Fitness, led by LeeAnn Langdon of Prime of Life Fitness, improves reaction time and memory with puzzles, concentration games and word challenges.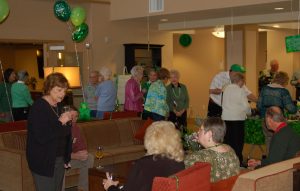 Celebrate St. Patrick's Day with the Young@Heart Band
Thursday, March 16 at 4 p.m
The Young@Heart Band will perform at The Avenues Crofton Park's St. Patrick's Day celebration. Dress up in your favorite green outfit and celebrate the luck of the Irish with catering from North Side Tavern. The Young@Heart Band plays a variety of oldies from the swing era through the '80s, country and dance songs.
Michael Van Metre to Host "Technology 101"
Tuesday, March 21 at 3 p.m.
Technology 101 is an educational monthly lecture series at The Avenues Crofton Park that covers the latest trends in technology. This month, Van Metre will discuss LastPass, a password management program, as well as Rent Café', an online payment portal. Van Metre is head of one of the eastern slopes predominate I.T. companies. He specializes in classes that meet the technology usage needs of senior citizens and has experience mentoring the 55+ age demographic.