Senior living (or senior housing and care) is a choice for individuals seeking an independent lifestyle with as much assistance as they need or want. Typical considerations for individuals seeking senior living include cost, location, availability of health care, and lifestyle.
When developing The Avenues at Crofton Park, we talked to a lot of experts in senior living as well as seniors themselves. As a result, we arrived at a unique model we call Senior Boutique Living. It's not assisted living where care is onsite, nor independent living with a meal plan or simply apartment housing for seniors 55-plus. Instead, it combines several factors to change the frame of reference from "here's what we have" for you to "what do you want?" in your next phase of life. By carefully balancing what individuals want – or don't want – we can provide a cost-effective living option that also delivers a vibrant social life with access to services only when needed.
Specifically, Senior Boutique Living means:
Carefree living – By carefree living, we mean leaving behind lawn maintenance, shoveling snow, having to deal with repairs about your home and turning your attention to what interests you. At the same time, our model includes traditional-style apartments and two- or three-bedroom cottages that feel like you never left home. By carefree living, we also consider security, including underground parking, indoor and outdoor lighting, and more.
Personalized lifestyle – When we opened, we asked our early residents what type of amenities and activities they sought, and then we delivered. We have not stopped asking and providing what residents seek within our community.
A focus on options – We knew one size would not fit all. Therefore, we developed 14 floor plans to accommodate just about every situation. These floor plans, for example, range in size from spacious 780-square-foot, one-bedroom apartment homes to a 1,768-square-foot, three-bedroom, three-bathroom cottage that can easily accommodate a home office or hobby area, guests or a caregiver, if desired.
Quality construction and home features – From our large floor plans to our large kitchens with high-end appliances, granite counters and more, we knew while seniors sought to downsize, they still wanted ample space to entertain, relax and feel at home. The focus on quality building, energy efficiency and design earned us a National Home Builders Association award.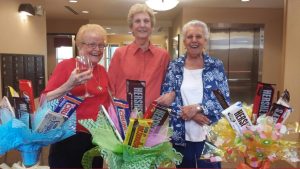 Resident-centric activities – What we offered for activities a year ago is not what we offer today. That's because we poll residents and adjust accordingly to keep the ongoing stream of social, wellness and educational events and activities fresh. Take our raised-bed garden area. While staff got it started, it took no time for our volunteer resident committee to take over and generate a beautiful vegetable garden that produces a healthy bounty from June through October. Resident-centric activities include our Avenues to Celebration, Avenues to Enrichment, and Avenues to Wellness programs and activities.
On-site property management team – Our onsite and service-oriented team includes a manager, facilities maintenance director, activities personnel and a concierge. The concierge adds that helpful touch that connects residents to local transportation or services that simplify life.
Relaxing common areas – While we created the large open lobby and Avenues Room to facilitate natural gatherings, we also carved out quiet areas around the community – both inside and out – for neighbors to chat or simply curl up with a book. We also included a demo kitchen, outdoor living space with a kitchen and fire pit, and a full catering kitchen and events center for larger gatherings.
Balancing rental rates with desired features – In addition to what we learned individuals wanted in senior living, we also heard what they did not want. For example, seniors want underground parking, and to enhance it we have enhanced lighting and tall ceilings in this heated and cooled environment. We also heard they wanted additional onsite storage, a wellness center, and fitness opportunities. Importantly, we also gleaned that they preferred to take care of their own nutritional needs and cook their own meals, which translated to lower rents for more spacious homes than many independent living communities carrying the overhead of full commercial kitchen services.
When individuals reach their 50s and beyond, they often begin thinking about their next chapter. With many having paid off their home mortgages – or being close to paying them off – and kids out of the home, they often seek a whole new lifestyle that frees up time for the hobbies and pursuits they have put off during their younger days. At The Avenues Crofton Park, we listened to what they sought and developed the Senior Boutique Living model that is resonating with individuals.