One of the greatest aspects of senior boutique living in our community is residents having access to their own personal kitchen. As we have previously discussed on our blog, The Avenues Crofton Park offers larger kitchens in our apartments, giving seniors the choice to prepare their own food and eat in the privacy of their own residence.
While many residents enjoy the privacy of cooking in their own home, they are never shy about sharing meals (and recipes!) with those in our community. Our monthly potluck socials give residents the opportunity to show off their skills in the kitchen and share their favorite dishes. With so many avid cooks and bakers living in our community, we wanted to share some of their favorite recipes.
Do you have a favorite recipe you'd like to share? This month, we will celebrate Oktoberfest at our monthly potluck social. Whip up some chicken schnitzel or bratwurst with sauerkraut and join us!
Enchilada Casserole a la Esther
Resident Esther A. made this dish for our Cinco de Mayo community social and it was a BIG hit!
Ingredients:
18 yellow corn tortillas
1lb ground beef
1 cup shredded yellow cheese
1/2 cup oil
2 TBS flour
2 TBS red chili powder
1/2 tsps. garlic salt, onion powder and cumin
Instructions:
Brown flour in oil, add all seasoning and fry for 1 minute. Add warm water to turn into light gravy. Bring to boil. Brown meat in large skillet. Drain grease and add seasoning.  Spread small amount of mixture in bottom of square pan.  Tear tortillas in pieces and layer over meat. Sprinkle cheese, more chili mix and 2nd layer of tortillas. Repeat until all ingredients used. Bake in oven for 20 minutes at 360 degrees.
Ted's Terrific Corned Beef and Cabbage
Ted Van Bogaert, the Property Manager at The Avenues Crofton Park, loves to whip this recipe out for St. Patrick's Day. He explains "make sure to add Grey Poupon mustard for the meat and a nice Guinness stout to wash it down. Slainte!"
Ingredients:
2-4 lbs. corned beef
6 small red potatoes
6 carrots
1 head of cabbage
Instructions:
In a large pot, submerge rinsed corned beef in cold water and add water to fill the pot to about 3 inches from the top. Add spices in packet that comes with the beef. Bring to a boil, reduce to simmer, cover and cook three hours or until tender. Peel and quarter red potatoes, peel/slice carrots and quarter a head of cabbage. Add vegetables about 45 minutes before serving. To serve, remove beef and slice on a platter. Drain vegetables and place in separate bowls for cabbage and one for potatoes and carrots. Add butter to taste.
Summer Squash Side Dish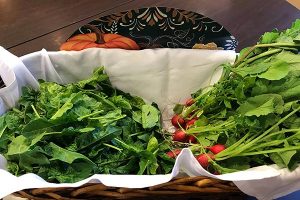 The recipe comes from a resident who remarked "it's so easy, healthy and FAST!"
Ingredients:
2 medium, ripe squash (preferably from our community garden)
2 tablespoons olive oil
1 medium onion
2 cloves garlic
Instructions:
Pick 2 medium ripe squash from The Avenues Crofton Park garden, wash and trim off the ends.  Slice lengthwise into thin pieces and then in half. Cook in a little olive oil. Season to your liking with onion and garlic cooked first in the oil. Add salt and pepper to taste.
Jan's Casserole
Resident Janet C. uses this as her "go-to" dish for parties. "People are always intrigued when they hear there is beer in the casserole. And don't skimp on the beer, full flavored and not light!"
Ingredients:
1 cup of bacon
1/4 cup of butter or margarine
2 tbsp. Dijon mustard
10 slices day-old bread
4 eggs, separated
3/4 cup butter milk
1/4 tsp. salt
1/8 tsp. pepper
2 cups shredded parmesan cheese
1/2 cup chopped green onion
3/4 cup beer (not light)
1/8 tsp. cream of tartar
Instructions:
Fry bacon until crisp; drain and set aside. Crème butter with mustard. Remove crusts from bread. Spread butter mixture onto bread and cut into 1-inch cubes. In a large bowl, beat egg yolks with milk, salt and pepper. Add bread cubes, bacon, cheese, and onions; mix lightly. Let stand 15 min. Stir in beer. Beat egg whites and crème of tartar until still; thoroughly blend 1/4 into bread mixture. Carefully fold in remaining whites. Pour into buttered 2-qt casserole of soufflé dish. Bake uncovered at 350 degrees 45- 55 min. or until golden brown, and a knife inserted in the center comes out clean. Cut into squares.
Peach Angel Dessert
Corné Lewis, Marketing and Leasing Specialist, loves to bake this sweet dish for her grandchildren. "They love putting their own homemade whipped cream on and they always go for seconds!"
Ingredients:
3/4 cup sugar
2 tbs. cornstarch
2 tbs. corn syrup
1/4 cup peach gelatin
1 loaf angel food cake (10.5 oz.)
8 oz. cream cheese
1 cup milk
2/3 cup confectioner's sugar
3 cups sliced peeled peaches (fresh or frozen)
1 carton whipping cream
Instructions:
In a saucepan combine sugar and cornstarch. Whisk in 1 cup water and corn syrup until smooth. Stir to a boil and becomes thick. Remove from heat. Stir peach gelatin until dissolved. Cool to room temperature, stirring several times.
Cut angel food cake into 9 slices. Line ungreased 13×9 dish with slices. In mixing bowl, beat cream cheese and milk until blended. Gradually beat in confectioner's sugar. Fold remaining topping from 1 carton whipping cream into cheese mixture; spread over cake. Set aside 1/3 cup whipped topping for garnish. Top with 3 cups sliced peeled fresh or frozen peaches, thawed.
Cover and refrigerate at least 4 hours. Cut into squares. Top each with dollop of reserved whipping cream. Serves 15.