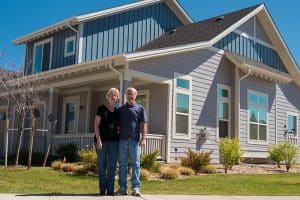 If you're a resident at the The Avenues Crofton Park, chances are you've sipped mimosas or worked in the community gardens with Pat and Ken Kirk.
The Kirks moved to The Avenues Crofton Park from nearby Westminster in 2015, settling into a cottage in our community. "Home ownership became difficult as we got older," Ken said. "After 40 years as homeowners, we were ready to simplify our lives. It became harder to find reliable people to fix issues that arose and it was a lot of work to maintain the house." When asked why they chose The Avenues, Pat didn't skip a beat: "It was the cottages!" She went on to explain that while she and Ken were ready to sell their house, they weren't ready to give up "that feeling of home ownership."
A cottage became the perfect solution for them. It was new, they could define their space, and with three bedrooms, the cottage provided them with the privacy and space they desired for hobbies such as crafting and playing music, along with all the social benefits of community living.
"It's easy to become isolated in larger communities and that was something we wanted to avoid," Pat said. "We are social and enjoy being a part of this community, but having our own home here allows us to get away when we want some quiet time together. And we love having the option of hosting holidays dinners at our place. My sister and I alternate for Christmas and Thanksgiving!"
As you may have guessed, the Kirks are social butterflies. You can often catch them at our Live 2 B Healthy exercise classes, playing cards with other residents in the common area, walking in Metzger Farm open space or attending one of our educational lectures. "We love the monthly Technology 101 classes hosted here," Ken said. "Not only do we get to learn about cool technology developments like Skype, but it's nice to have someone to help with my computer problems and answer questions I might have." They also love exploring what the area has to offer, getting out on the golf course or attending events at the Arvada Center for the Arts and Humanities, where they have season passes.
If you're interested in finding out more about life at The Avenues Crofton Park in one of our cottages, schedule a visit or call 720-799-0915.