With over 77 million state visitors reported by the Colorado Department of Transportation in 2015, it's well-established that Colorado's natural wonders and endless recreation opportunities make it the perfect state for travelers to visit any time of year. What's more, it's also becoming a desired location for seniors — several Colorado cities and counties have recently been ranked as top places to retire, and the state has been listed as one of the country's top five states for retirees.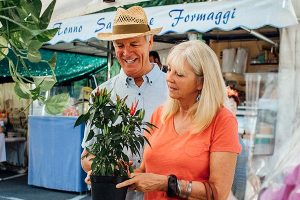 Not only is The Avenues Crofton Park located in one of the country's best states for seniors, it's conveniently situated between Boulder and Denver — hubs for culture, art and entertainment in addition to recreation. Even better, the community's Broomfield address has numerous offerings for residents to enjoy right in their backyards.
Community Culture
Not being as large as Denver or Boulder has a major advantage: Broomfield maintains a tight-knit community, with special events hosted throughout the year designed to bring residents of all ages together. Every September, Broomfield Days showcases local organizations and businesses, and the city's strong community spirit. Broomfield Days includes a golf tournament, car show, clown contest, bingo, 5k race, parade, festival, craft fair and live entertainment — there is truly a way for everyone to participate.
On Independence Day, Broomfield hosts a Great American Picnic at Broomfield County Commons Park. The celebration includes pony rides, a bouncy house, a free concert and fireworks. Broomfield's Holiday Tree Lighting Ceremony, which takes place on the first Friday of December, rings in the holiday season with caroling, carriage rides, a visit from Santa and a holiday tree lighting ceremony with the mayor. Every spring, Broomfield residents are invited to attend one of four lantern-making workshops and create a lantern from recycled materials. On Earth Day, the Lantern Parade showcases residents' talents and highlights the importance of sustainable art.
Museums
Much of the development of the American West is attributed to the expansion of railroads, and Broomfield is no exception. At the Broomfield Depot Museum, visitors will learn the history of the city, which was established in 1909 to serve the Colorado & Southern Railway's depot house and was home to just 160 residents. The Broomfield Veterans Memorial Museum is place for residents to learn more about the brave men and women who've served throughout America's history; the museum also regularly hosts free historical lectures.
Music and Entertainment
The 1STBANK Center welcomes a variety of artists and performers throughout the year, as does the Broomfield Auditorium. In addition to musical performances, the Broomfield Auditorium hosts theatrical shows and film screenings, including special holiday performances and fundraisers sponsored by the city's cultural affairs division, Creative Broomfield.
In the summer, Creative Broomfield sponsors a free outdoor summer concert series, Wednesdays on the Waterfront, at the Broomfield Amphitheater. In the fall and winter, Creative Broomfield and the University of Colorado sponsor a Jazz Series, with tickets priced at just $10. Beginning in February 2018, Creative Broomfield will host a Free Wednesday Series, featuring a unique lineup of events that will include cultural performances by Brazilian, Italian and Indian dancers.
The Broomfield Library sponsors numerous community book clubs that encourage readers to pick up something new and gather together for engaging monthly discussions. The library also hosts Free Friday Films the second Friday of each month at 2 p.m., and Broomfield County Commons Parks hosts free Movies in the Park during the summer months.
Art
In addition to Movies in the Park, the Broomfield County Commons Park is the location of the Broomfield Sculpture Trail. This one-mile trail showcases a variety of pieces from nine local artists. Spectators can also view local art at various locations around the city. Every year, Broomfield County's Art for Awhile Sculpture Program choses local sculptors to display their pieces outside 1STBANK Center, the North Metro Fire Rescue District Headquarters, the Broomfield Library and the Broomfield Auditorium.
We invite you visit our community and explore all of Broomfield's cultural offerings. Call 720.328.9548 to schedule a tour and learn more.