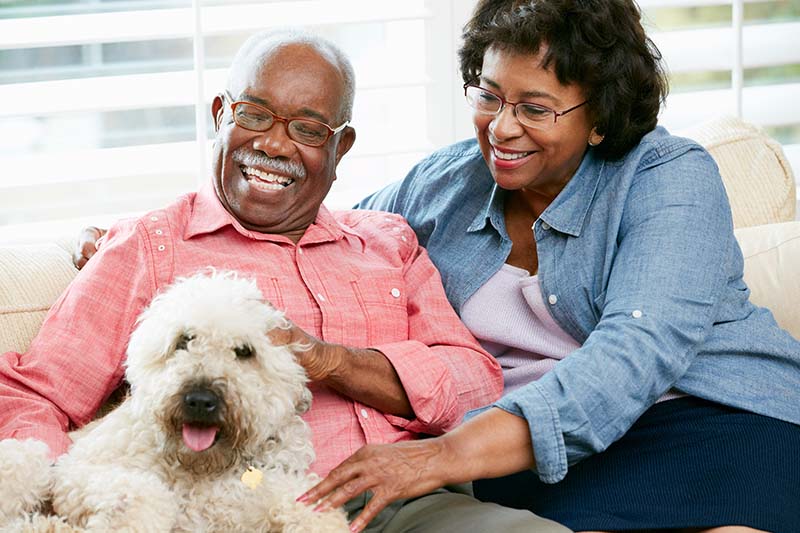 Pet adoptions soared nationwide in 2020 as people found themselves spending more time at home and positioned to take on pet duties. According to a National Poll on Healthy Aging, many of these "pandemic pets" were adopted by older adults between the ages of 50 and 80. Besides having the time and energy to host a pet, studies show pets benefit older adults' health in several ways, including:
Increased physical activity
Physical activity is key to healthy aging. Experts recommend adults 65 and older get 30 minutes of exercise daily. Achieving this target goal can be easier for pet owners, especially those with dogs, which require regular walks. Pets provide a great reason for seniors to stay active and get their bodies moving, which can lead to better mental, physical and cardiovascular health.
At The Avenues Crofton Park, a pet-friendly* 55+ retirement community, residents have convenient access to scenic trails and nearby open space to walk their canine companions, and our more spacious residences provide greater flexibility and extra room for feline friends to roam.
Stress relief
Studies show that interacting with pets, through activities like cuddling, exercise and play, can lower cortisol, the body's main stress hormone, and release endorphins, helping people feel calmer and more relaxed. According to Harvard Medical School, dog owners also tend to have lower blood pressure, healthier cholesterol levels, and a lower risk of heart disease, than non-owners.
Develop a routine and purpose
Lacking a concrete routine can lead to feelings of boredom and helplessness, but the built-in structure most pets require around feeding, exercise and consistent training can help seniors establish a pattern of routine. Pets can also help older adults find a greater sense of meaning and purpose in their day-to-day life by caring for a living creature that needs to be nurtured.
Companionship
Having a dog or cat provides older adults with physical affection and unconditional love and can help ease loneliness. In addition, walking a dog in public and at a community like ours can lead to greater social interaction with strangers and deeper connections with other pet lovers. Residents who do have pets here certainly seem to be enjoying a healthy lifestyle with their four-legged friends by their side.
If you're considering a move to 55+ living, please give us a call at 720-799-0915 or schedule an in-person or virtual tour to learn how you can make our pet-friendly community your new home.
*The Avenues Crofton Park limits pets by type, size and breed. Most domestic cats and dogs are allowed. Please contact our sales team for complete details.