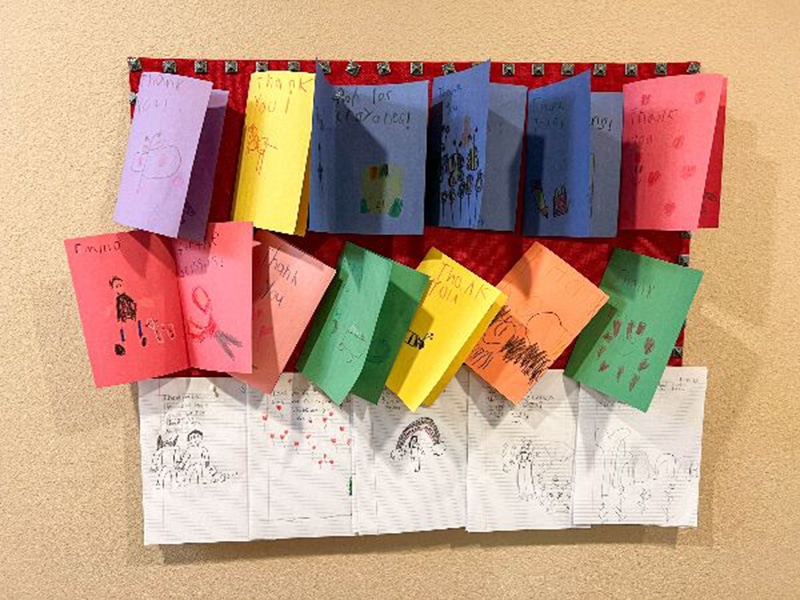 Social responsibility has always been important to residents and staff at The Avenues Crofton Park. Last month, the 55+ retirement community got into the spirit of "back to school" with a supply drive to benefit an elementary school with a personal connection.
Kemp Elementary School in Commerce City is located in the neighborhood where Avenues' Lifestyle Activity Manager, Mikayla Uecker, used to live and where her mother, Mrs. Jamie McDaniel, is a special education teacher. When Uecker mentioned that she was collecting school supplies to ensure her mother's students had plenty of necessities like pencils, notebooks, scissors, and such, the residents came through in a big way.
"It was amazing how much they donated," said Uecker. "Some of them went out immediately and bought supplies. They even expressed a desire to continue supporting the school," she added.
Several of the residents who live at The Avenues are retired teachers and enthusiastically supported the supply drive because they remember the difficulty in procuring enough materials for every student to last throughout the school year. It also got them excited talking about the grades they taught, what it was like to teach elementary school children versus high school kids, and how much they all loved teaching.
Jim and Vonnie R., two current Avenues residents, are originally from Pennsylvania and always planned to retire to Colorado. They moved to The Avenues two years ago to be closer to family. Both are former educators who have experience teaching in rural school districts and helped donate to the supply drive.
"We both remember how difficult it is to get enough supplies for the kids," said Vonnie. "We spent a lot of our own money on school supplies as teachers," she added.
Jim, who served as a teacher, high school principal, and superintendent throughout his career, got involved because he knows how important community support is.
"We will definitely donate again. It's been a while since we did back-to-school supplies shopping, and it was a lot of fun," he said.
Mrs. McDaniel has been a special education teacher at Kemp Elementary for 19 years. She said that in special education classrooms, students are not asked or required to bring basic supplies as they are for their regular homeroom.
The Avenues' donation included pencils, crayons, scissors, notebooks, anti-bacterial wipes, and facial tissue for Mrs. McDaniel's kindergarten through second-grade students. Thanks to The Avenues' generosity, all of Mrs. McDaniel's special needs students have access to the materials they need this year. In fact, there were enough supplies gathered that she paid it forward and shared extra supplies with other classrooms.
McDaniel's students made thank you cards for the seniors to express their gratitude, which are now on display in the community.
At The Avenues Crofton Park, our residents love giving back through community-building activities. To learn more about our award-winning community, call 720-799-0915, or schedule a personalized tour online.