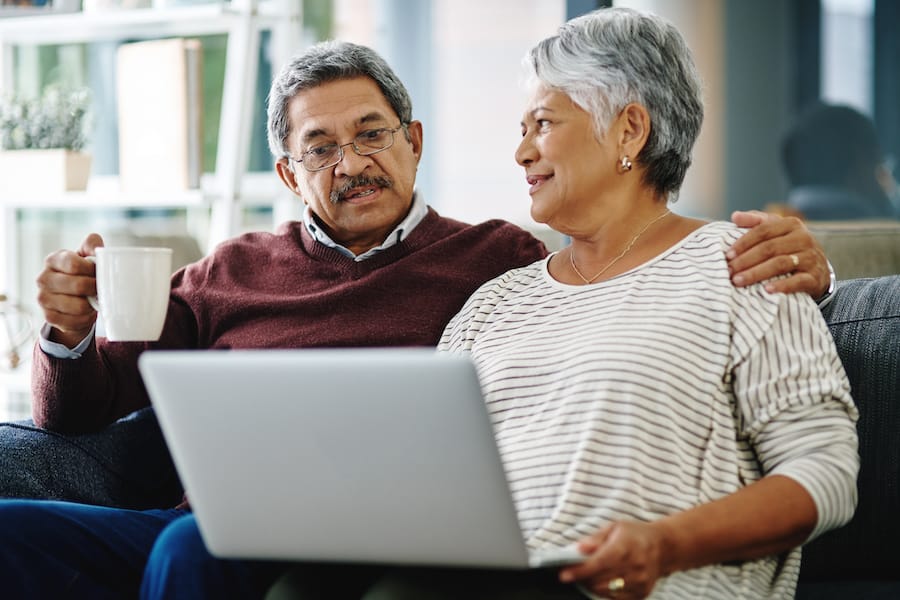 Each spring, college campuses around the country offer potential high school juniors and seniors and their parents tours to showcase what they have to offer in higher education. Well, a different kind of senior, the 55+ kind, can do the same with their adult children and tour a senior living community like The Avenues Crofton Park in person or virtually.
It's not uncommon for seniors living in a different state than their adult children to want to move to a senior living community near them. In fact, over the last couple of years, The Avenues Crofton Park has had several inquiries – and new residents – move in from other regions of the country to be closer to their Colorado "children." While being out of state can pose certain challenges, seniors and their families can tour a retirement community together either in person or virtually. The obvious first choice for most seniors is to see the community for themselves, however, that may not be possible due to health concerns, travel issues, or time constraints.
Fortunately, many 55+ communities offer virtual tours. Follow these tips for touring a 55+ community nearby and share them with senior parents so they can decide if it's the right place for them.
1. Communication Is Key
Seniors should discuss in depth what they are looking for in a senior living community before anyone even starts looking. This will help narrow down choices when you do start the search by eliminating those that do not offer the space, amenities, and activities they desire, and a budget can be more easily determined. For example, we pride ourselves on larger living quarters; others might focus on care services.
2. Divide and Conquer
Divvying up the work involved when starting a search for the right senior living community will speed up the process. For instance, the more tech-savvy son or daughter might start an online search. Then parents can make the initial call to the communities that sound like what they are looking for to ask specific questions and get a feel for the customer service the staff offers.
3. Tour the Community Together Virtually
Technology makes it simple for adult children and their parents to attend a tour of a senior living community together. If everyone knows how to use Facetime, out-of-state parents can see what their children see as they take the tour and even speak to the team member tour guide. Seniors and their parents can discuss in real time the accommodations available, and the social programs offered connected by their smartphone or tablet.
If doing the tour together using technology is not feasible, then adult children can shoot a video of an apartment or the cottages, the parking options and what the surrounding area looks like.
Living out of state from where they want to retire to does not necessarily mean seniors have to make trips back and forth several times to see the communities that have what they are looking for. Technology makes the process simpler. Working with their adult children they can take virtual tours and get a real feel for what life would be like for them in a particular community.
The Avenues Crofton Park makes it easy for seniors and their families to tour our community no matter where they live. If you're considering a move to 55+ living or assisting a loved one in their search for a new place to call home, please give us a call at 720-799-0915 to schedule an in-person or virtual tour.