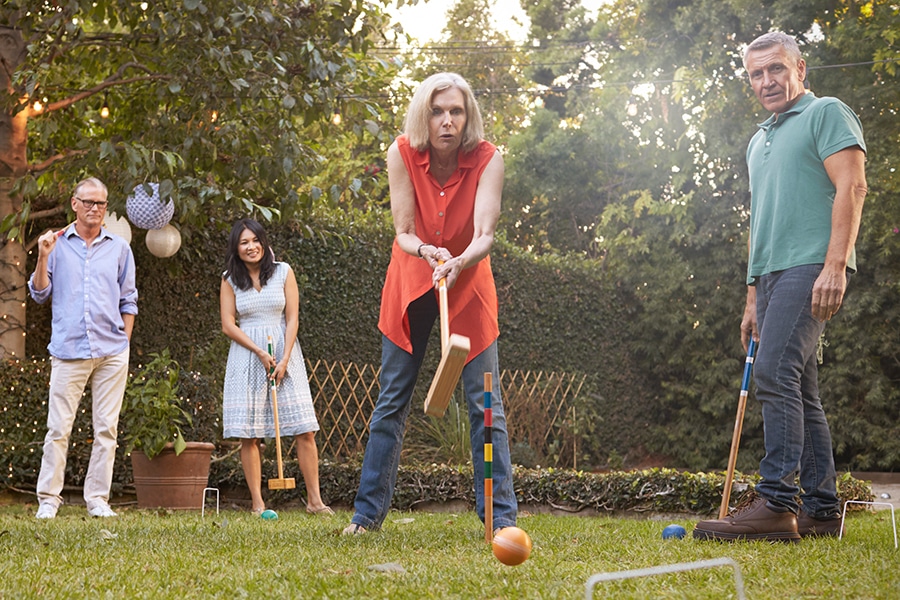 When residents express an interest in a certain hobby or activity, The Avenues Crofton Park team enthusiastically provides support to make it happen. It's an important way to promote an inclusive culture with opportunities for everyone to get involved in community life, socialize with neighbors, and bond over shared interests.
Residents recently conveyed a desire to organize a patio games night and cookout to encourage everyone to enjoy their outdoor space. Residents took the lead on planning and organizing while staff provided beverages and hotdogs for the grill. Several residents volunteered to do the grilling while others signed up to bring homemade side dishes and desserts to the potluck-style gathering.
The Avenues has a beautiful back patio that flows seamlessly from the hotel-like lobby and is equipped with a fire pit, grill, outdoor kitchen, and comfortable sitting areas to support a vibrant social environment. Residents enjoy gathering in this lovely outdoor living space to socialize, surrounded by flower-filled planters and the soothing sounds of a fountain in the background. It's the perfect spot for relaxing, reading, or playing patio games like croquet, ladder ball, and cornhole.
"When residents told me last year at the end of summer, they would like to do more cookouts we made sure to spruce up the patio once the snow melted and pulled out all the patio games. If the residents want to turn patio games night with a cookout into a regular event, we are open to that," said Lifestyle Activities Manager Mikayla Uecker. "We really let them take the lead and just support them as much as possible when it comes to their ideas about community events," she added.
There are always fun events on the activities calendar to celebrate occasions and to suit different interests and hobbies. Residents can participate in tai chi classes on the outdoor yoga pad and the community recently hosted a Colorado Traveling Market with several vendors offering jewelry, clothing, and crafts for sale, self-defense demonstrations, and more. Residents mixed and mingled while shopping close to home and even played a little poker by collecting a playing card from each vendor with the best hands receiving a prize.
Seniors who live alone can have difficulty finding activities to do with their peers or be shy in social situations with strangers. That's never the case at The Avenues. With a robust activities calendar and a management team that embraces residents' ideas and supports their interests, seniors will find plenty of ways to engage with neighbors. There are always events and activities that everyone can enjoy, whether it's joining our men's or women's billiards club, working in the community gardens, or sharing a meal on the patio with new friends.
To learn more about our award-winning community, call 720-799-0915, or schedule a personalized tour online.