When was the last time you met up with a friend for coffee or attended a family gathering? If it's been a while, it may be time to put something on the calendar. Studies have shown that social interaction has numerous benefits for seniors in particular, including improved brain health, longer life spans, enhanced physical and mental health, and a lowered risk of dementia.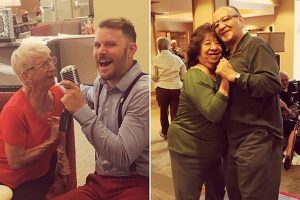 Despite these benefits, socialization can be difficult for seniors. Some of the most common barriers seniors have reported are a loss of contact with friends and relatives as they age, a lack of social opportunities for their age group and not having a supportive environment.
How can seniors overcome these obstacles? Enter senior living communities like The Avenues Crofton Park. We've designed our community to facilitate friendships and social engagement through regularly scheduled programming and classes, special events, holiday activities and more!
At The Avenues Crofton Park, residents can tailor their activities to fit their passions and interests, and have a wide variety of options to choose from. Our robust social programming is designed to provide benefits beyond those listed above, as activities are centered around exercise, nature, healthy foods and habits, and lifelong learning. You can read more about some of our most popular social activities, and their benefits, below:
Monthly potluck socials
On the last Thursday of every month, we invite our residents to attend themed potluck socials with live entertainment. Recent potluck themes have celebrated Oktoberfest, Labor Day and Independence Day.  Not only are these events a catalyst for social interaction, they encourage residents to share recipes — and often the family stories behind those recipes — and learn about culture and history through food, music and all-around fun!
Community gardening
When residents need fresh produce for their potluck recipes, they can head over to our community garden. Whether cooking with the produce or tending to the garden, residents love this amenity. Many residents spend several days a week in the garden, caring for the plants and enjoying the physical benefits of gardening along with the other therapeutic benefits nature provides.
Group fitness classes
While gardening is a wonderful source of exercise for seniors, we also offer fitness classes for those looking to sweat a bit more. Two popular fitness classes for residents are Tai Chi and Zumba Gold. Both classes are tailored to an active adult population and feature low-impact, easy-to-follow movements designed to improve flexibly, balance and strength while reducing the risk of falls. An added bonus: by making exercise a group activity, residents are more likely to stay motivated and want to exercise!
Technology classes
Social media has broken down barriers to social interaction, but seniors often find the technology confusing and intimidating. That's why we feature monthly "Technology 101" courses to acquaint our residents with new technologies. Some of our most recent classes have taught residents how to use digital cloud storage, meal ordering apps and video chat!
Wine education courses
We all love to sip a glass of red wine after a long day, and knowing the glass contains a healthy dose of antioxidants makes us all feel pretty good about that decision. To help you make that decision to grab a glass even easier, we welcome The Wine Education Institute every month for a wine tasting and educational course. During these events, residents learn about the unique characteristics of the grapes used to produce the wines they're sipping — interesting knowledge to share at their next social gathering. They also have a chance to reap the benefits of those grapes: resveratrol, the compound found in red wine, has been shown to boost heart health, protect against various forms of cancer, prevent vision loss and, surprisingly, reduce the risk of falls. Just remember not to exceed the daily recommended values: two glasses a day for men and one glass a day for women.
Your options for social interaction at The Avenues Crofton Park don't end here. You'll also find monthly lectures, health clinics and holiday events on our monthly calendars. We invite you to join us for one — or many — of our upcoming events, which you can read about on our blog. We hope to see you soon!